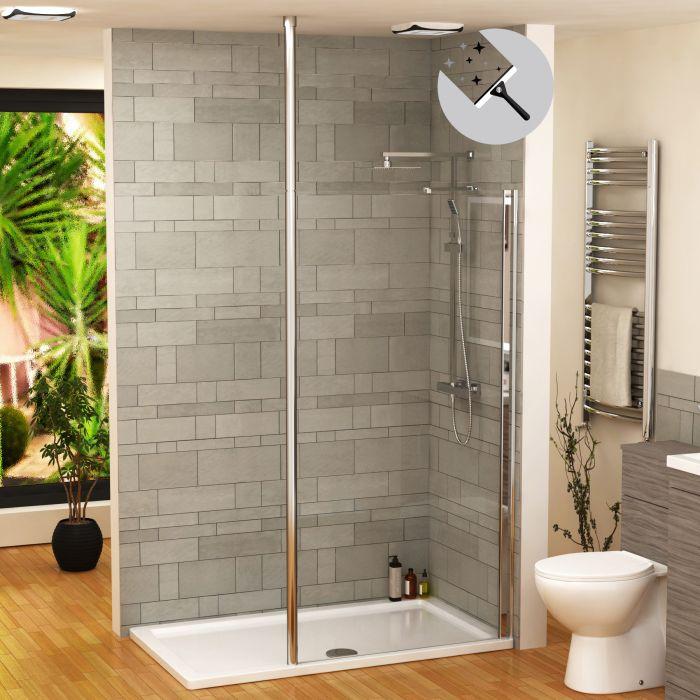 A Walk-in shower enclosure can help you if you want your bathroom to look modern. Since many people prefer a shower over bath, a walk-in shower has become a must have utility in the bathroom. With our busy lifestyle, we need such showering solution that looks aesthetically appealing as well practical at the same time. If you are planning to renovate your bathroom, a walk-in shower can be a good option. here we have discussed everything related to walk in showers that will help you make the right choice.
What is a Walk-In Shower Enclosure
A walk-in shower as the name suggests is a specified shower area but with no doors or curtains. That simply means, if they enclose it, it is not a walk-in shower. how many sides of it will be closed depend on your preference? The key idea of walk-in shower is that it remains at least partially open from either side. So, there are no doors to open, no step up to get into the shower area. Most of the walk-in shower enclosures are standalone areas with a fixed shower tray in the floor that allows water drainage. You can easily adjust it like adding a seat, and grab rails etc. to help family members with limited mobility.
How a walk-in shower is different from a wet room and shower enclosures
As walk in shower and wet room have a lot of similarities, many people confuse them with one another. Both have no doors, as we see in a typical shower enclosure. Perhaps, there is only one or two shower screens that separates the shower area from the rest of the bathroom. The major difference is that a wet room is almost entirely an open area where water is drained through the same floor. There are usually we do no shower trays installed to it instead of some alterations on the floor to do the job. A shower screen is usually used to prevent water splashes. In comparison, a walk-in shower enclosure comes with a shower tray with one or two shower screens on either side.
Benefits of Walk in Shower Enclosures
Walk-in shower enclosures are preferred because of their modern look and style. Here we have discussed few advantages of installing walk in shower in the bathroom.
Suitable for Small Bathrooms
People prefer a walk-in shower over a bathtub as they make small bathroom look more spacious. If you install a shower enclosure, then you may have considered the space it may require due to doors openings that is not the case for walk in shower enclosure.
Creates a Spacious Bathroom
There is a great flexibility in what type of walk-in shower enclosure you want. With clear glass screens around, you will look around in the bathroom. It will be separate area but will still look like this space is completely a part of the bathroom. This means your bathroom will look wider and spacious. The area used by walk in shower will feel free and uncovered by a bathroom any bathroom utilities.
Suitable for the People with Limited Mobility
Another benefit of a walk-in shower enclosure is that it is easily accessible with no doors to open. That makes it a great choice for the people with limited mobility. You can even add accessories such as grip handle, non-slip shower tray or seat to help such family members.
Luxurious Look
A walk-in shower can change the look of your entire bathroom with its minimalist style. This is especially suitable for anyone who is looking to create a luxurious minimalist look in the bathroom. Perhaps a walk-in shower has become an essential part of modern bathroom design.
Walk in Shower Enclosures at Royal Bathroom UK.
Walk in shower enclosures give not only your bathroom a modern minimalist look but also provide many other advantages. Few of these benefits include suitability of people with limited mobility, easy maintenance, and great option for small bathrooms. Regardless of size and type of your bathroom, our range of bathroom shower enclosures can be a superb choice for you.
Also read about:
Best Gaming Laptop For PUBG In 2021
How to Prepare for the Facebook 410 101 Exam
How to Resolve Issues of Chrome Browser Faced by Users