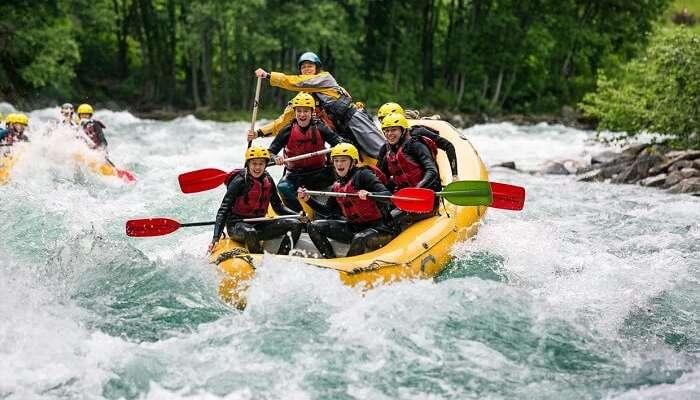 What is better than spending a holiday in the environment of gorgeous Himalayas, in nature's lap with eye-feasting landscapes? To explore the best sport in Rishikesh I.e., river rafting first you need to find the best river rafting packages in Rishikesh.
Most river Rishikesh rafting packages are offered by many tourism companies, among them, you need to choose the best package which gives you the best experience of this adventure sport. No doubt, this sport gives you an adrenaline rush and it never matters if you're getting your feet wet for the first time, many companies get you on-spot training from instructors who are well-versed and certified. So there is no need to fear prior experience in this sport. The tourism company also provides all rafting equipment like helmets, life jackets, and paddles in Rishikesh rafting packages.
When choosing Rafting In Rishikesh you can find many rafting tours of variation in durations, by which you can choose you to opt time to for camping and rafting. So carefully select an option that suits your time and you should also select the level of difficulty you want to experience. There are different combinations of offers such as one night/two days and three day tours for camping and 26-kilometer and 35-kilometer tours for river rafting in Rishikesh In addition to these, you can also choose to enjoy rock climbing, rappelling, and trekking. So, choose the best river rafting package which offers you to enjoy all the adventures. If you are occupied with other works in your office or fed up with the academic works then you can also choose a single day trip for rafting.
Rishikesh Rafting Pricing & Packages
If you are concerned about River rafting in Rishikesh price then some companies offer their services at
1) 750.00per person 9 km rafting trip (Brahmpuri to NIM beach) 2 Hours
2) 750.00 per person 12 km rafting trip (Brahmpuri to ram Jjhula) 2:30 Hour
3) 1000.00 per person 16 km rafting trip ( Shivpuri to NIM beach) 3 Hours
4) 1500.00 per person 24/26 km rafting trip (marine drive to NIM beach) 4 Hours
So if you are occupied with a busy schedule and want to experience river rafting in Rishikesh time then the above-mentioned packages are best suited.
River Rafting in Rishikesh prices starts from 499 per individual and above. So choose accordingly. You can choose a room in a hotel or a cottage or camps according to your comfort. There will be queen-sized beds, hygiene-maintained rooms, freshly prepared food, cleaned bathrooms, and many other luxuries.
When choosing a river rafting package keeps these things in mind
Choose the company that offers you short-term insurance services.
Don't forget to check out for the genuine feedbacks of its previous tourists on the social media portal as some companies tend to fake their identity
Check out if the company providing both camping and rafting packages in Rishikesh if you are interested to stay more than one day and ensure that the company follows all the protocols and precautions for safety while rafting.
Hold some advice from people who had previous experience and this will make you familiar with the environment while rafting.
Advantages of Exploring River Rafting in Rishikesh
For a better experience of this amazing adventure and exploration, you need to book before the trekking route is more occupied. The best rafting period is from September to June. So book your tickets before this month. There is more demand in these times because this will additionally give a benefit of viewing the scenic beauty of flora and fauna of the Rishikesh valley. Before booking a company for rafting ensures that the organization is a professional and licensed rafting company to ensure safety. As such companies provide quality rafting equipment and professional guides. Always try to follow the guidelines by your guides while rafting.
Another main step in choosing the best Rishikesh rafting packages is the consideration of price. River rafting in Rishikeshprice is almost the same by all the tourism companies that offer rafting services. But some companies offer more than a normal price and offer the same services as the normal price companies do. So survey all the companies and choose the company where you wish you can be served with good services and also safer rafting. Compare the services provided by different tourism companies and beware of companies that are fake online and after the payment, you cannot find that company again.
Rishikesh also holds the adventures like Bungee jumping, cliffing, Rock climbing, Fox flying, Rappelling, Mountain biking, giant swing, waterfall trekking, Valley crossing, kayaking. So if you also want to experience such an adventure then start traveling to Rishikesh by choosing the best tourism package. You can also enjoy this trip with your family or friends by choosing a more number of days and exploring all the adventures. Not only adventures but also Rishikesh holds many beautiful temples and scenes which will give you a lifetime experience of witnessing the ecstatic beauty of Rishikesh.
Also read about:
Benefits of Portable Appliance Testing Services
Confounded between Bond Cleaning and End of rent cleaning and its considerations
Various Kinds Of Biometrics And Trends Of The Future Adapted By App Development Company Canada in 2021