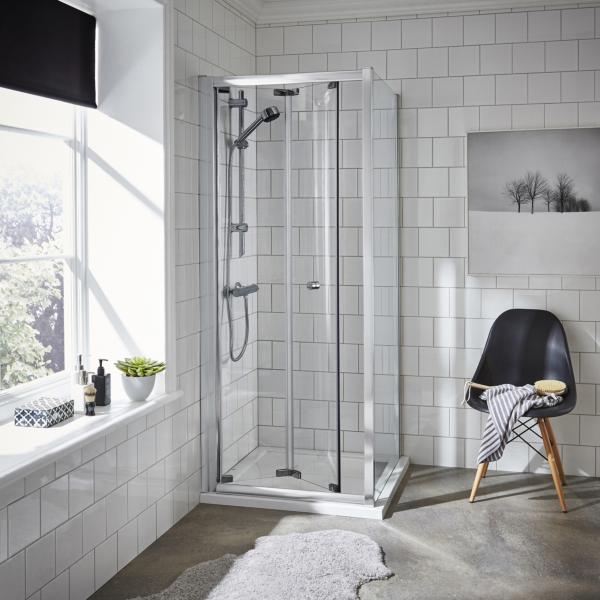 700 x 760 corner entry shower enclosure is the perfect size for a small bathroom. Not everyone has the luxury of bigger bathrooms. Perhaps small bathrooms are more common in the UK. The biggest problem that you face with small bathrooms is that it is difficult to choose suitable utilities. It is because you are already out of space, and there is no chance of going wrong with the size of bathroom fitting and fixtures. For shower enclosures, we usually think of bigger bathroom space. However, bathroom enclosure can be installed in the small bathroom areas as these are available in a range of size that suits both small and bigger shower areas.
How to Choose a Shower Enclosure for a Small Bathroom
What it means of the size of the bathroom varies widely. It depends on a user's body, and for a heavy person, a small size may be too small. Thus, the same will be the case for a shower enclosure. To cater to the need for different shower spaces, shower enclosures are available in a different sizes. I consider a 700 x760 corner entry shower enclosure a small shower enclosure suitable for cloakrooms or where you want to use less space for the shower areas. Anything less than this will be too small. For example, any shower enclosure that has less size than 700mm is now obsolete. This is because such small sizes do not provide enough space to move around easily during the shower. With corner entry, however, you may have some extra area for a more relaxing shower. A shower enclosure with 800 or 900 mm in size is suitable for medium or large size bathrooms.
A 700x760 corner entry shower enclosure is a perfect size for a small bathroom, but you may need to choose another size in some cases. The choice of an enclosure depends on many different factors.
Consider Shower Entry Space
The most important thing you need to consider when choosing a shower enclosure for a small space is the entrance. You must be aware of how much entrance area you have available for the doors (if installed). Small shower enclosures like 700x760 corner entry shower enclosure's entrance highly depend on the type of door you use with it. A corner entry solves the narrow entrance problem that you may have to face with other small enclosures.
Understand the Measurement of the Shower Doors
The second important factor to consider while picking the shower enclosure for your small bathroom is understanding the shower doors' dimensions. Because you have limited space, the shower enclosure doors may create a problem for the surrounding fixtures and fitting. It is important to ensure that when you open the enclosure door, it still has enough room for bathroom furniture or any other utilities without colliding with them.
Shower enclosures with different door options
(i)if you want to choose a sliding door for a shower enclosure, it will work better with a standard size shower tray. However, it is highly recommended that you check the enclosure's description details about how much area it occupies while opening the doors.
(ii) If you want a side entry option, then a pivot door will need enough clearance space, and the two swings option will take inward space.
(iii). Another option for a small bathroom can be a walk-in shower that is a suitable choice and does not require doors.
Get Shower Enclosures from The Royal Bathrooms UK
A small bathroom 700 x 760 corner entry shower enclosure can be both a practiced and functional choice. This is because it may create enough internal space for a better bath experience than other options. At Royal Bathrooms UK, we have an extensive range of shower enclosures available in all sizes. Regardless of your bathroom's size and style, you can easily find the one according to your needs.
Also read about:
Perks of Getting EPR License in India
5 steps to get RNI registration in India
how to achieve a bright career in IT industries